GDM Rent Car is giving up with such a interesting rubric, about whole Georgia. Today, we will talk about country's one of the most highest and beautiful region, Alaska of Georgia- Svaneti.


Historic province in Georgia - Svaneti is located nothwestern part of the country. It is inhabited by the Svans, an ethnic subgroup of Georgians. Tottally, area is 5,776.4 km and population is 23,000 people. Situated on the southern slopes of the central Caucasus Mountains and surrounded by 3,000–5,000 meter peaks, Svaneti is the highest inhabited area in the Caucasus. Four of the 10 highest peaks of the Caucasus are located in the region. The highest mountain in Georgia, Mount Shkhara at 5,201 meters (17,059 feet), is located in the province. Prominent peaks include Tetnuldi (4,974 m / 16,319 ft), Shota Rustaveli (4,960 m / 16,273 ft), Mount Ushba (4,710 m / 15,453 ft), Ailama (4,525 m / 14,842 ft), as well as Lalveri, Latsga and others.

Svaneti is another marvelous and remote regions of Georgia. This historic province is located on the south of central Caucasus Mountains and is home to four highest peaks of the country. Additionally, its Ushguli village is the highest populated area and a UNESCO World Heritage Site. Svaneti is a perfect destination for any traveler, especially for hikers, as the area offers dozens of hiking trails towards glaciers, lakes, and remote villages. The most significant communities to see here is Ushguli and Mazeri.


Svaneti has two parts corresponding to two inhabited valleys: Upper Svaneti (Zemo Svaneti) and Lower Svaneti (Kvemo Svaneti). Regions main town is Mestia.

The climate of Svaneti is humid and is influenced by the air masses coming in from the Black Sea throughout the year. Average temperatures and precipitation vary considerably with elevation. Annual precipitation ranges between 1000 and 3200 mm (39 and 126 inches). The highest amount of precipitation falls on the Greater Caucasus Mountains. The region is characterized by very heavy snowfall in the winter and avalanches are a frequent occurrence. Snow cover may reach 5 meters (16.4 feet) in some areas. In general, the lowest regions of Svaneti (800–1200 meters / 2624–3936 feet above sea level) are characterized by long, warm summers and relatively cold and snowy winters. Middle altitudes (1200–1800 meters above sea level) experience relatively warm summers and cold winters. Areas above 2000 meters above sea level lie within a zone that experiences short, cool summers (less than 3 months) and long and cold winters. Large parts of Svaneti lie above 3000 meters (9840 feet) above sea level, a zone which does not have a real summer. Due to Svaneti's close proximity to the Black Sea, the region is spared from the extremely cold winter temperatures that are characteristic of high mountains.

The Svans are usually identified with the Soanes mentioned by Greek geographer Strabo, who placed them more or less in the area still occupied by the modern-day Svans. The province had been a dependency of Colchis, and of its successor kingdom of Lazica (Egrisi) until AD 552, when the Svans took advantage of the Lazic War, repudiated this connection and went over to the Persians. The Byzantines wanted the region, for if they secured its passes, they could prevent Persian raids on the border areas of Lazica. With the end of the war (562), Svanetia again became part of Lazica. Then, the province joined the Kingdom of Abkhazia (John and Adarnase of the Shavliani dynasty, 871–893) to form a unified monarchy which was incorporated into the Kingdom of Georgia in the early 11th century.


Let's talk about Svaneti's seightseeings.


MESTIA




Mestia is an ancient highland town in the northwest Georgia, at the elevation of 1,500m (4,920ft) in the Caucasus Mountains. Mestia and the 132 villages in Mestia District create highest populated area in Georgia, with Ushguli listed among 50 highest populated cities in the world.

Mestia has a wide open ski resort with a frequent fresh powder. Even if there's no snow in other resorts, you can always enjoy skiing in Mestia, it almost never has a deficit of snow. Resort is pretty wild and beautiful. From Tbilisi, destination time is aprroximately 6 hours, but you can arrive here from train to Zugdidi and then car. due to bad weather and way, GDM Rent Car service have cars, fully revelant for Mestia and whole Svaneti, like Montero and etc. So, you can rent car from us and make comfortable, joying and unforgettable trip to this beautiful region. Mestia has 2 ski-lifts and Heliski is an option.




By all means, everyone who comes to Georgia, should go up to Svaneti Mountains. Throughout centuries Svaneti was the safe-keeper of Georgia's treasury – kings sent their riches to mountains during invasions. Nowadays these treasures are gathered in the collections of Svaneti Museum in Mestia and make up one of the most important collections, stored in Georgian museums. Apart from displaying unique masterpieces of local and imported arts and crafts, Svaneti museum is an important regional social space with its new mediatheque, adapted lobby and a roof-terrace (in summer).




Many of the museum's collection of icons were made by 11th century Svan masters in a style unique from elsewhere in the Orthodox world. Notable icons include Emperor Diocletian's Torture of St. George by the iconographer Asani, and Christ Pantokrator, painted by Giorgi and Tevdore.



USHGULI


Ushguli is a community of four villages located at the head of the Enguri gorge in Svaneti, Georgia. Recognized as the Upper Svaneti(Zemo Svaneti) Ushguli is one of the highest continuously inhabited settlements in Europe. Compared to somewhat more developed towns like Mestia, Ushguli isn't in an accessible location, which has preserved many of the villages' characteristics.


Ushguli is located at an altitude of 2,100 metres (6,900 ft) near the foot of Shkhara, one of the highest summits of the Greater Caucasus mountains. About 70 families (about 200 people) live in the area, enough to support a small school. The area is snow-covered for 6 months of the year, and often the road to Mestia is impassable.
Typical Svaneti defensive tower houses are found throughout the village. The Ushguli Chapel located on a hilltop near the village dates back to the 12th century.




USHBA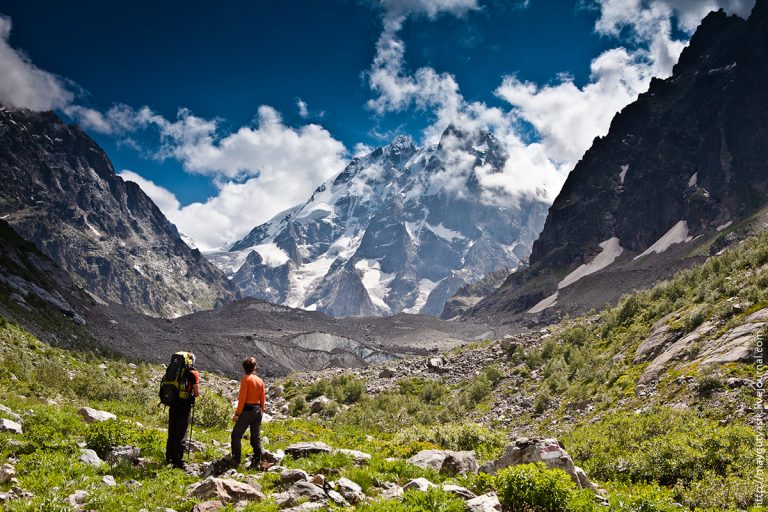 Ushba is one of the most notable peaks of the Caucasus Mountains. It is located in the Svaneti region of Georgia, just south of the border with the Kabardino-Balkaria region of Russia. Although it does not rank in the 10 highest peaks of the range, Ushba is known as the "Matterhorn of the Caucasus" for its picturesque, spire-shaped double summit. Due to its steep profile and unstable weather Ushba is considered by many climbers as the most difficult ascent in the Caucasus.

Ushba's south summit is slightly higher than its north summit, which has an elevation of 4,690 m (15,387 ft). The north summit was first climbed in 1888 by John Garford Cokklin and Ulrich Almer, while the south summit saw its first ascent in 1903 by a German-Swiss-Austrian expedition led by B. Rickmer-Rickmers.



HESHKILI HUTS



There is a little, the oldest village of Heshkili in Samegrelo- Zemo Svaneti, located at 6 kilometers away from the region of Mestia, at 1900 meters from the sea level, on the way of the mountain ski resort of Hatsvali. There are the ancient monuments and religious buildings in the village, but the main reason, why it is so popular, is the so-called "Heshkili Huts." This is a very interesting place, which attracts the attention of people with a little, lovely family hotel, where you can find yourself in "the Hobbit's world". Maybe, J.J.R. Tolkien's book inspired the owners to create such place.


SKI RESORT



Svaneti starts to be the major Georgian magnet for mountain lovers not only in summer, but also in winter. Previously tourists, especially those who are fond of hiking and exploring ancient cultures, headed to this remote mountainous region from July to late September. Now, proud Svanetian people welcome their guests from late December till the end of April too.
Surrounded by the highest mountain peaks, covered with legends and myths about hallowed local traditions, Mestia is the heart of the region. From here, routes to further destinations in Svaneti begin. Mestia is also convenient point to stop for overnights and move towards ski lifts, equipment rentals, marked pistes, and virgin slopes. Staying overnight is possible there or in the other villages nearby. In Mestia, you can find simple guest-houses and mid-range cozy hotels.



DISHES and WINERY


Kubdari is a meat filled pastry that originates from Georgia's Svaneti region, where it is also called 'kuptaari'. It can be made with either beef or pork but the most popular version uses both. It should be made with cut meat and not minced meat.


We hope that you will enjoy to this information. GDM Rent Car service is online 24/7. with our comfortable cars and fast and affordable service, you can easily arrive to whole Svaneti.